Japanese workers fight to contain nuclear accident.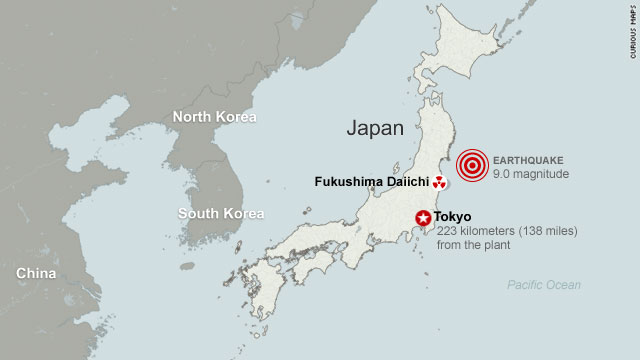 Map: Fukushima Daiichi
"There is still a very high risk of further radioactive material coming out," Prime Minister Naoto Kan said, asking people to remain calm.
About 200,000 people living within a 12.4-mile radius of the plant already had been evacuated.
Authorities also banned flights over the area and evacuated most workers from the plant.
Those who remained behind continued a seesaw, last-ditch effort to flood reactors with seawater to keep them cool and prevent a wider environmental and public health catastrophe.
The beleaguered crew had to abandon the plant control room Tuesday night because of high radiation levels, Kyodo News reported, citing plant owner Tokyo Electric Power Company.
"Their situation is not great," said David Brenner, director of the Center for Radiological Research at Columbia University. "It's pretty clear that they will be getting very high doses of radiation. There's certainly the potential for lethal doses of radiation. They know it, and I think you have to call these people heroes."
There cannot be any more dangerous job on earth right now. And there will be casualties.

If they have to leave because the radiation levels become too dangerous, the pumping of sea water into the containment vessels will become impossible.
I'm sure they will hold out as long as possible.
James Pilant